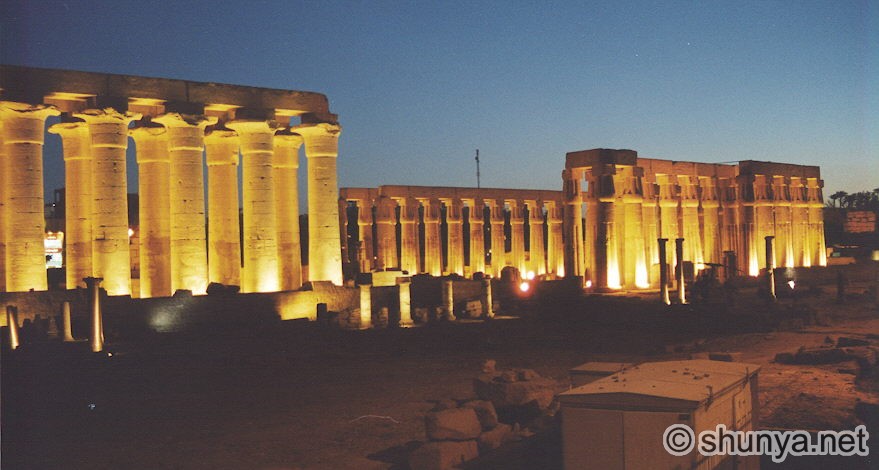 Thebes, temple of Luxor.
Within a matter of months of his interview with Dr. Christensen, Dr. Hilton was in Egypt with a BYU Travel Studies tour and was able to make a first-hand inspection of Tomb 33. However, before entering Tomb 33 with Dr. Hilton, readers should be apprised of thé nature of a pittomb. A pit-tomb is an underground burial chamber carved from solid rock. They are found in gréât numbers at thé Necropolis at Thebes. Some are called "private tombs," or thé "tombs of thé nobles," to distinguish them from thé royal tombs in thé nearby Valley of thé Kings, and, according to Dr. Christensen, "each has been labeled by thé Egyptian government with a nuinber placed at thé entrance." Hence, the name Tomb 33.
Here, then, is Dr. Hilton's story, with an aside that readers should find interesting:
As assistant dean of adult éducation, l had occasion to plan a trip for adults who were going to visit Luxor. Since ail thé adults
were Latter-day Saints, l contacted Dr. Ross Christensen and asked him about his hypothesis concerning thé tomb that Lebolo had excavated in 1818. We exammed a rather large book of floor plans, ail of thé floor plans of known tombs that hâve been found, and l imagine they hâve found nearly ail of them: they hâve been looking for 150 years.
As we examined thé plans there was oniy one that seemed to fit thé description Oliver Cowdery gives, and as l recall, it was l) thé largest and 2) thé oniy one wlth niches. Question: "How many pit-tombs in thé area of Gurneh?" "Oh, dozens—but none had niches, and none were big enough to hold three or four hundred mummies. And l suppose that when Lebolo got there, thé mummies were stacked up like cord wood inside, Well, we traveled to Egypt, and as soon as we got to Luxor, we inquired of an archeologist who was with us where Tomb 33 might be. Guess what his reaction was?
"You mean you came ail thé way from America to see Tomb 33?" l said, "Yes."
"Well, l happen to be one of thé chief government archaeologists. If we knew why you want to see Tomb 33, we might exploit that idea and get other tourists to corne." "Well," l said, "We're Bible scholars."
He said, "Well, there are not many Bible ruins around hère, but we certainly hâve plenty of ruins."
"Well," l said, "thé fact of thé matter is that we are hère to see if we can find Tomb 33, whence we think came thé papyrus for thé Book of Abraham."
He then said that he had prided hirnself on reading everything that had corne frorn thé tombs of Egypt but that he had never heard of thé Book of Abraham.
"Well," l said, "l just happen to hâve a copy with me." It was in my little three-in-one. l opened it to Facsimile No. l in Abraham, and you should hâve seen his eyes! He said, "l must read this." So l said) "That's good. l'd like to have your reactions to it." "Ail right," he said, "you go across thé river and see Thebes) and 111 read this. l'm staying at thé same hôtel as you are." Well, we crossed thé river and visited Thebes. When we got back that night his face was as long as a horse. "Now, Hilton," he said, "l don't want to give you offense.
" "Oh, go ahead," l said, "tell me what's on your mind." "Well, if you won't take offense, 111 tell you straight oui that this book is thé grossest kind of nonsense."
"Oh, hold on," l said. "Thé Lord's prophet translated that. That's a true book. Tread lightiy on it."
"Why, Hilton," he said, "you're a fool. Where did you get your doctor's degree?"
"From thé University of Chicago," l replied.
"Well, that's a good enough school. In Egyptology?" "Well, no. In school administration."
Then he laughed. "Well, l read this book. This hieroglyph that says Abraham was in Egypt—your three-year-old son, blindfolded with a crayon, could draw better than that. lt's a nonsense symbol. lt doesn't mean Abraham. lt doesn't mean anything." Well, as we now know, Reuben Hediock hadn't carved it very well in thé first place. Now that thé papyrus from which Facsimile No. l was taken has corne to light, it is interesting to see what Facsimilé No. l really looks like. lt's quite a bit différent from that which is in our Book of Abraham. But at thé time l did not know that.
So l asked, "Well, what do you think of this?"
"Oh, l've seen lots of pictures like this," he said. "Instead of Abraham tied to thé altar, this is a cadaver—a dead body; instead of thé priest of Pharàoh standing there ready to eut hirn with thé knife) it is an embalmer.
He's about to encise thé belly of the deceased and remove thé viscera and put it in those canupial jars." Then he laughed and said, "You know, your Joseph Smith said that these are the gods of Elkenah, Libnah, Mahmackrah, Korash, and Pharàoh. Thèse are not gods—they are canupial jars. Look, you've just been down to Cairo. Didn't you notice that thèse four jars are in association with every mummy?
lsn't it true that one of those jars is thé head of a hawk, thé other a jackai, the other a hippopotamus, and thé other," l think he said, "a baboon?"
"Well," l said, "it is true that there are canopic jars in association with every mummy, and it is true that thé viscera is put in thèse jars to be sealed with thé mummy."
Well, hère l was without a degree in Egyptology, and hère was thé gréât scholarly archaeologist telling me that l was a dead cadaver. Ail l could say was, "Well, look, l got a testimony that this is a true book."
"Well, you're a greater fool than l thought you were," he said. "This is a dead body."
"Well, look," l said, "across thé river they told us that thé ancient Egyptians depicted life by having one foot above thé other, just as it is in Facsimile No. l. Now, how could a dead cadaver show life? One foot above thé other? Tell me, what does this mean? A hand with fingers outstretched in front of thé face?" "Well," he said, "that means thé symbol of prayer, as folding of hands does to a Christian."
"How could a dead person be praying?" l asked. "Indeed, thé man is not dead, he's alive) and he is praying, and that's thé priest of Pharàoh about to offer him up." At that point he gave up, shaking his head, and we parted. We got around to visiting thé tombs, and we asked our bus driver to take us to Tomb 33. The driver said, "No one ever cornes io Tomb 33.1 hâve to get out my road map to find where it is." When we arrived, thé first things l noticed were thé first two roorns. Thé ceilings had caved in. Thé ground surface was a flat plane, just like on a désert) and thé Egyptians had dug down through thé stone and carved a doorway inside and then carved roorns out.
There were five or six feet of stone between thé ceiling and thé ground level above. Now what had happened was that thèse ceilings over thé big rooms had apparently fallen in because they did not hâve enough interior support. Thus, we could see thé tops of thé niches—not thé bottoms—because they were covered by thé débris from thé fallen ceiling. Oniy thé first two or three rooms had collapsed. l wanted to go back to where thé ceiling had not collapsed. When we got to that point, after going down through thé débris that had fallen from thé roof, we could see that thé modem Egyptians had eut down through thé débris so that they could get to thé doorway. But thé doorway had a heavy screen or grill locked over it.
Down there we could see not oniy thé tops of thé niches) but aiso carefully painted pictures and hieroglyphs around thé upper comices of thé room. And in thé corners where thé ceiling hadn't dropped down entirely—ail of thé corners were in place—protected from thé weather were brightiy colored painted pictures.
At thé grilled doorway there was a strong scent of kérosène. We shook thé grill, but it was locked. We looked in and saw many fiftyfive gallon drums of kérosène. Thé government was using thé rooms of thé tomb as a warehouse to store their kérosène. Nearby was a felahlflg, a guard, to protect thé kérosène, l'm sure he wasîi't there to protect anything eise.
Well, soon l started to notice on thé sides of thé eut down through thé débris to thé grilled door what l thought was burlap. l observed that it was about 18 inches thick and about seven or eight feet across, and that thé eut had gone right down through this pile of burlap, and thus, thé burlap had a lot of overburden on top of it. But as l picked up what l thought was burlap, it tumed out to be mumrny linen, thousands of years old.
My wife began kicking around and found an old bone which
was later confirmed as an old human fémur bone. And pretty soon we tumed over part of a skull of a rnummy with parts of thé mumrny wrapping and hair still on it. As we looked around, we found a human clavicle and other bits and pièces of things.
Well, l was satisfied. l honestly believe that we were thé first Latter-day Saints who had corne to that tomb knowing what we were looking at. And l thought to myself, if l were Lebolo, and if there were three or four hundred mummies of thé various orders which were partty decomposed, and if l oniy found 11 good mummies, l would take those 11 good mummies—which Lebolo did—but
î would not discard those other three or four hundred mummies. What would l do? l would unwind them and look for treasure. And what would thé remains be? Well, there would be a skull over there, and a fémur bone over hère, and so on. And in fact there would be a lot more.
There would be a pile of murnmy wrappings 18 inches thick, ten feet or so across, which is exactiy what we found. Gan you imagine Lebolo's servants, pulling off mummy wrappings, hour after hour? There must hâve been a tremendousstackof mummy wrappings, and then when thé roof caved in on it, thé pile would be crushed to its présent dimensions, l think we were thé first Latter-day Saints to see what had happened. That was really something.
Now l honestly believe that we were at thé same place that thé Prophet Joseph's four mummies came from. Our visit was during thé summer of 1961. l suppose if you went back and did thé research ail over again, you would corne to thé sarne place that we did—Tomb 33. And if you went there today, you would find a lot more bones.
l've been back four times, and hâve never been able to get beyond thé grill, but it doesn't matter, because from thé floor plans that Dr. Christensen has, we can tell that there are oniy
small rooms beyond and none of them hâve niches in them.
33). Wall painting in the Tomb of Seti I, the second king of the 19th Dynasty, son of Ramesses I and Queen Sitre, Valley of the Kings, Thebes. (1970) Picture Alistair Duncan (c) Dorling Kindersley